January, 2007:
SuccessTracs Member of the Year Award:
Luanne Pennesi
After only one year of SuccessTracs coaching, Luanne Pennesi improved every area of her life. She began by dismantling an old business, moving to a new state and launching a brand new business, which then became so profitable, she tripled her income within one year!
Financial finesse was just one aspect of Luanne's result-based coaching. During a family crisis when her father fell ill, she moved through the experience with strength under duress, an example of tenacity and heart to friends and family.
As Luanne continues to work with her coach—ticking off the goals on her list of hopes and dreams—her quality of life, her income, and her relationships will grow with her.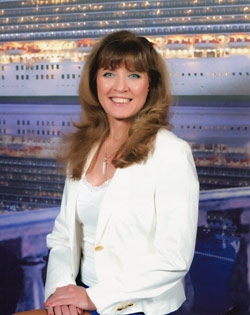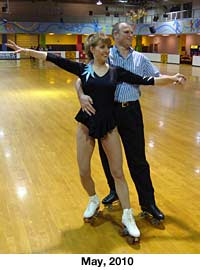 Luanne Pennesi, a registered nurse practicing for over 37 years in both conventional and integrative medicine, shares information that motivates people to take back their personal power and lead happier, more productive lives at ANY age.
Her work is the missing link between the confusing, overwhelming and conflicting information about "new age" or "alternative" approaches to health and anti-aging and the practical application of real-time, commonsense, scientifically based information to help you take full control over your health and longevity and often save your own life naturally. She makes learning fun as she presents wholistic health concepts in a manner that is easy to understand and to integrate.
Luanne: "I believe that the technology and diagnostic wisdom of conventional medicine is essential to utilize. Emergency medicine, diagnostic procedures and reconstructive surgeries do help people to live longer, more quality lives. What I object to is the arrogance of a system that does not honor time tested, scientifically documented therapies that do not originate from their sacred halls, those that they cannot assert political and fiscal control over. It is time we offered the public alternatives to many standard medical therapies that just plain don't help people to heal. I have witnessed people who have reversed dozens of conditions that conventional medicine has failed miserably at reversing in spite of the millions of dollars of research that go into studies controlled by the very pharmaceutical companies that are selling the drugs to suppress the symptoms that our bodies manifest in order to beg our attention. Every one of us deserves to be happy, optimally healthy and wealthy. I believe that in life pain is inevitable and suffering is an option. I also believe that change is inevitable and GROWTH is an option. We are all gifted in some way, and we need to be sourcing our lives around manifesting our own individual potentials and greatness, what I call "living authentically" and not adapting to other people's agendas for us and spending way too much time holding on to pain from past life events. I help people to live much more deliberately and I am impressed with how quickly people heal when they are given the right tools to work with."
Her extensive credentials and experience include:
Masters of Science in Natural Health
Nursing license in NY, NJ, FL, & TX
Certified Nurse AMMA therapist, which is a comprehensive and sophisticated Oriental diagnosis and massage therapy with acupressure point treatment
Certified Neurolinguistic Healer
Level IIB Healing Touch practitioner
Founder of the Metropolitan Wellness Group, a NYC-based wholistic wellness center, which is now owned and run by Dr. Richard Linchitz.
Adjunct professor, Fairleigh Dickinson University's graduate program
Sits on Advisory Board for Fairleigh Dickinson University's Master's of Sports Administration Program
She was the NYS coordinator for The American Holistic Nurses Association for 5 years.

She was the Program Coordinator of Stress Management and Esteem Building for the Wholistic Nursing Programs at the New York College for Wholistic Health, Education and Research in Syosset, NY for 6 years.
She is trained in the use of high dose vitamin C and bio-oxidative therapies.
Luanne is on the Board of Directors at Fairleigh Dickinson University for the Masters Program in Sports Administration
She was recognized in "Who's Who Among Young American Professionals" in 1988 and "Who's Who in American Nursing" in 1994.
A regular guest on local talk radio, Luanne co-hosted the radio program "The Tri-State Healing Hour" with Gary Null on WEVD in 1997 and "Creative Wellness" on WHPC from Nassau Community College in 1996 and 1997.
In 2000, she hosted her own show, The Healing Hour, in Fort Lauderdale, Florida.
She was a founding member and was a broadcast affiliate for The People's Network, a revolutionary television network devoted exclusively to providing motivational, instructional, inspiring and success-oriented programming.
You can see her on Staten Island Cablevision's The Thinking Mind with George Stern and News 12 Long Island's "Long Island Naturally" with Mary Mucci.
Luanne often shares the stage with health and nutrition expert Gary Null at his health support groups all around the country and assists him with updating his world famous, highly effective natural protocols for chronic illnesses.
Luanne is a dynamic, energizing individual who makes learning fun as she presents wholistic health concepts in a manner that is easy to understand and to integrate. To prove her authenticity, she personally lives the healthy, positive, adventurous life that she prescribes for others. She successfully reversed the following illnesses
Acne (and the pock marks that resulted from it)
Addictions to caffeine and sugar
Chronic Fatigue Syndrome and cytomegalovirus
Chronic Mycoplasma Pneumonia
Chronic yeast
Cystic ovaries
Hepatitis

Herpes
Hypothyroidism
Lymes disease
Menopause
Nail fungus
Polycystic Breast Disease
PMS
Restless Leg Syndrome
Severe Myopia

Luanne also lives the adventurous, authentic lifestyle she prescribes for others. She is a world class athlete in race walking and competed in roller skate ballroom dancing. She lives in New York with her parrots and has offices in Middle Island and Glen Cove on Long Island as well as in New York City, Los Angeles, CA and Naples, FL.

Her achievements include:

1986: Received Gold Medal in American Roller Skate Dance
2000: Metropolitan Athletic Congress Masters™ Athlete of the Year
2002, 2003, 2005, 2008 Grand Prix Race walk champion, NYC
2005: Received Silver Medal at World Masters Track and Field Meet, San Sebastian, Spain
2006: Received "Person of the Year" award from the prestigious Peak Potentials organization.
2009 she authored 3 books: her workbook, Living Authentically, SOULUTIONS, a book of inspirational quotes, and Discover Your Inner Strength which she co-authored with Brian Tracy and Steven Covey. **
2009 she created CD's: Zen and the Art of Spring Cleaning, Discover Your Inner Strength, Anchoring the Spirit (for meditation) and A Discussion about Andropause: Maintaining your Mojo after 50**
In 2010 she created a 10 CD set called Optimum Athletic Performance: A Natural Approach with health and nutrition expert, Gary Null along with another CD, Staying Healthy in an Ailing Economy

**These are available for purchase by contacting Luanne

Click here to see where Luanne has presented

She currently resides in Northeast Texas with her parrots and has offices there as well as Naples, FL. She can be reached at her home in NY, 903-881-7008 or you can e-mail her at whnn@aol.com